Remember those good old Campbell's Soup Casseroles of yesterday- well, I suppose some people still make them... Not low carb! Well, I found a really interesting one on Linda's Low Carb Recipes today. It even has a recipe for low carb mushroom soup. I do intend to try this! I never could figure out just what Campbell's put in their "cream" soups for that carb count! After all, reducing cream will make it turn thick. Go figure.
Anyway give this a look: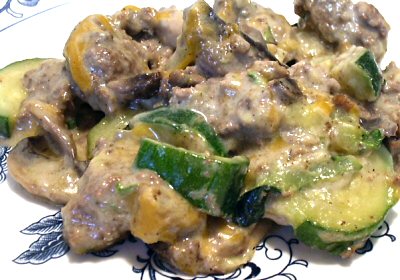 ZUCCHINI CASSEROLE
2 pounds ground beef
1 small onion, chopped, 2 1/2 ounces
6 small zucchini, sliced in half moons, 24 ounces
1/2 pound fresh mushrooms, sliced
1 batch Dottie's Cream of Mushroom Soup for Recipes
8 ounces cheddar cheese, shredded
Brown the ground beef with the onion and a little salt and pepper; drain the fat. Put the meat in a large, greased casserole, 3 quarts or larger. Sauté the zucchini and mushrooms until almost tender; season lightly and add to the ground beef in the casserole. Prepare the mushroom soup and stir into meat and vegetable mixture along with the cheese; adjust the seasoning if necessary. Bake at 350º 30 minutes or until hot and bubbly.
Makes about 8 servings
Can be frozen
Per Serving: 436 Calories; 34g Fat; 28g Protein; 6g Carbohydrate; 2g Dietary Fiber; 4g Net Carbs

This makes a huge casserole so don't be tempted to try to put it in a smaller dish. If you'd rather save on time rather than cleanup, you can brown the beef and onion in one large skillet while sautéeing the zucchini and mushrooms in another. Once the meat is cooked and transferred to the casserole, you can prepare the mushroom soup in the same skillet. I think you'll like this creamy, comforting casserole. I was tempted to add some garlic, but I think the mushroom flavor probably comes through better with just salt and pepper.
DOTTIE'S CREAM OF MUSHROOM SOUP FOR RECIPES
8 small mushrooms, chopped, 3 ounces
1 stalk celery, chopped
2 tablespoons onion, chopped, about 1 ounce
2 tablespoons butter
1/2 cup chicken broth
3/4 cup heavy cream
Salt and pepper, to taste
Xanthan gum, optional *
In a medium skillet, sauté the mushrooms, celery and onion in the butter until soft. Add the broth and cream. Bring to a boil, then turn down the heat a bit and cook until reduced and thickened, stirring frequently and watching closely so it doesn't boil over. Season to taste.
---